This is the Baer Design Studio product review for Accent Opaque Digital 120lb Cover Smooth Card Stock. I tested it and approve it for those printing digital scrapbook paper, wedding invitations, cards, envelopes and party favor tags.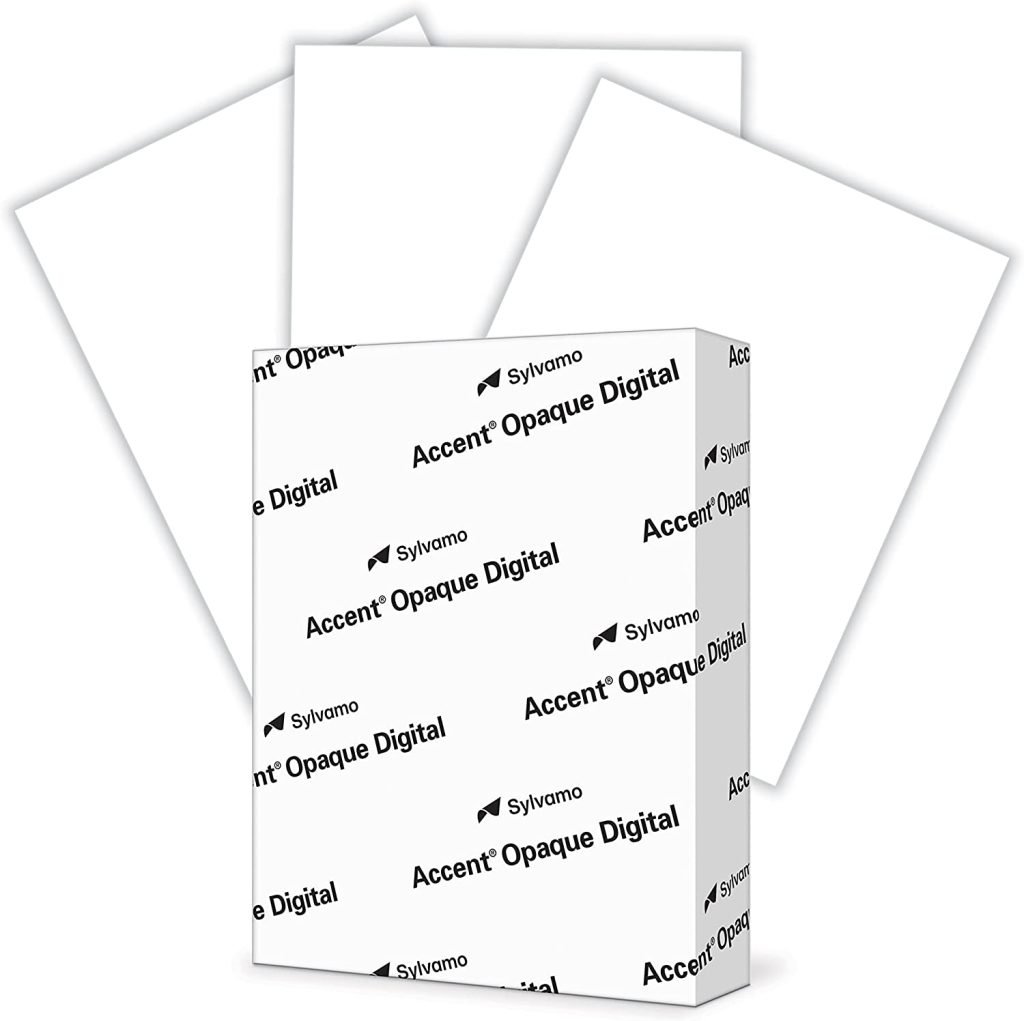 I am extremely happy that I found this paper! This is my new favorite printer friendly CARD STOCK and the one I will be recommending to my customers. The product I am sharing today, is Accent Opaque Digital 120 lb. I have tried and recommended a number of different digital card stock papers in the past, but I have never found one that is this stiff, thick and prints out beautifully.
I purchased both the 100 lb and the 120 lb reams of paper. As the 120 lb paper is 325 gsm, I was nervous that it could jam my printer. I print on an Epson Artisan 1430 inkjet printer. However, the printing process was successful in every way. My key to success printable tag, invitations, digital background papers, party favor tags, cards and centerpieces were gorgeous in both color and fine details. Though it is thick (I always feel that I am picking up two sheets of card stock when I am just holding one sheet), I was able to still get a clean cut with my paper cutter.
I made these balloon centerpieces using the 120lb. I just combine two 8.5×11 sheet printed sheets together to form the box base and they were very sturdy. When making paper base centerpieces, I am always in need of a sturdy printable paper other than the scrapbook paper I purchase at a craft store. Because I am able to print my own design onto the paper and then construct it the centerpiece base, I can really customize my design to fit my party theme.
These are the paper specs:
• Item: Card Stock Paper, Thick Cover Weight Paper
• Finish: Super Smooth and White Cardstock
• Ideal For: Invitations, Stationery, Card Making, Business Cards, Table Tent Cards, Brochure Covers, Posters, Artwork Medium, Direct Mail, Marketing Materials, Booklets, Financial Reports, Menus, Screen Printing, Glimmer Foil, Sharpie markers and more.
• Card Stock Sizes (May Vary by Basis Weight): 8.5 x 11 Cover Weight, 11 x 17 cover weight, 18 x 12 inch, 19 x 13 inch
• Brightness: 97 Bright
• Weight: Comes in 65lb Cover (176gsm), 80lb Cover (216gsm), 100lb Cover (271 gsm) and 120lb Cover (325gsm) Cardstock
Here are my findings for the 120lb paper:
⦁ very thick, stiff and heavy (unlike competing papers claiming to be 120lb)
⦁ very bright- some of the competitors claim to be 97 bright but have an ivory tone
⦁ 16 pt., 325 gsm, 120lb
⦁ 150 sheets per ream, paid $18.93 on Amazon (update:on 3/16/2023 it is $12.56 but 3 wks for shipping through Amazon Prime}
⦁ easy to cut with a paper cutter, scissors or a hole punch
⦁ DO NOT recommend for envelopes as it is difficult to make folds, but I highly recommend the 100lb version for envelopes.
⦁ I was only able to find this paper online.
⦁ I suggest you use the "best paper" & "premium matte paper printer settings" , it did not bleed and was dry immediately after I removed from my printer.
Update: After posting this article on Instagram, Accent Opaque from International Papers got in touch with me. They let me know that they have an Electronic Imaging Guarantee:
All mill finished digital sizes are guaranteed to run on small and large offset presses, digital imaging equipment, including copiers, laser and inkjet printers, as well as plain-paper fax machines. We guarantee these products to run on the equipment noted above (except when the finish or basis weight is outside the equipments' recommended specifications), or International Paper will replace or offer a refund up to the total paper purchase.
They also let me know that if you design and print a project you are proud of, you can submit your project to accentopaque.com for a chance to be featured.
If you have any questions or comments, please feel free to reach out to me!
Brigitte Baer, Baer Design Studio
bdhbaer@sbcglobal.net