DIY Printable Water Bottle Labels FROM BAER DESIGN STUDIO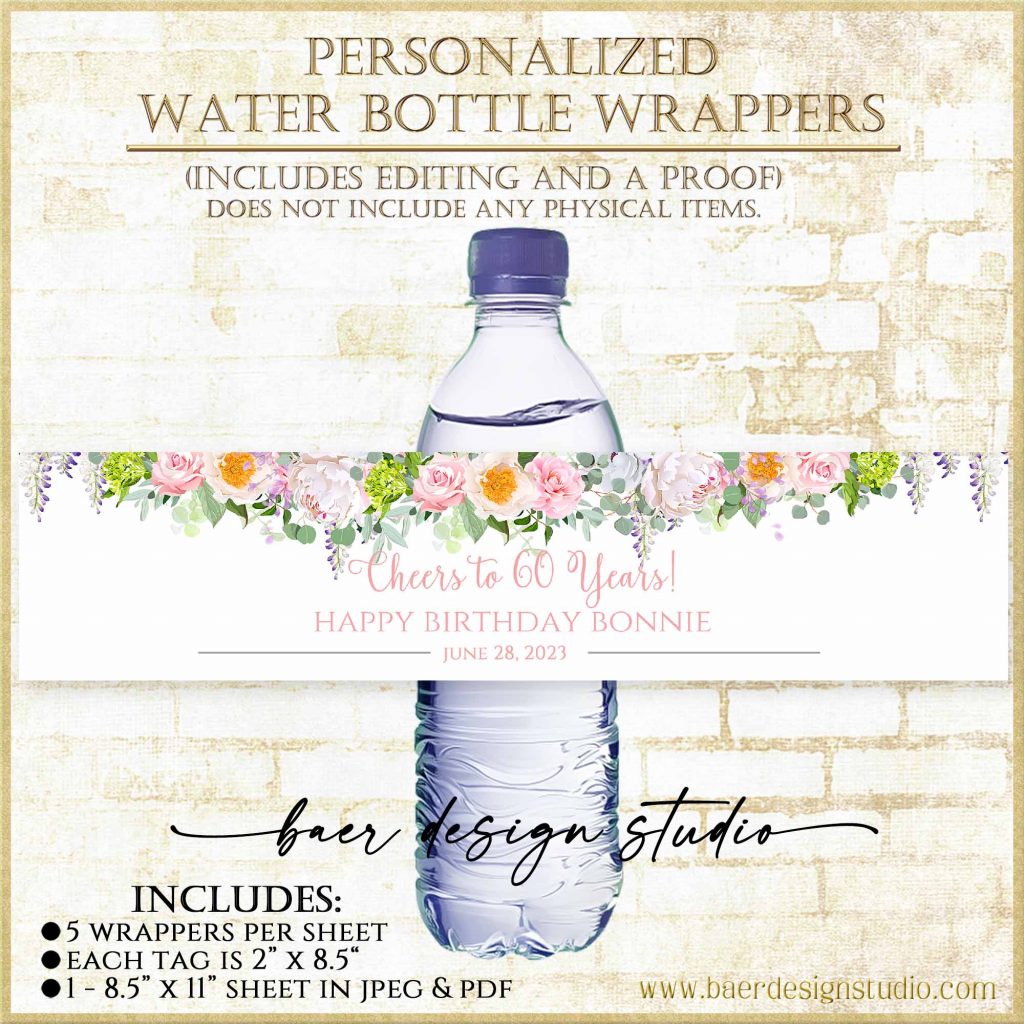 These are the directions for those who have already purchased or are interested in purchasing downloadable water bottle wrappers from Baer Design Studio.
If you have not placed your order yet, you may view the water bottle label collections here.
Baer Design Studio sells instant download printable water bottle labels as well as personalized printable water bottle labels for graduations, milestone birthdays, retirement, weddings, showers, etc.
The Baer Design Studio custom designed labels come in both jpeg and pdf. Open the PDF into the PDF viewer (this comes on most computers). If not, you can download Adobe reader for free here: http://get.adobe.com/reader/ or open the jpeg into a software program of your choice.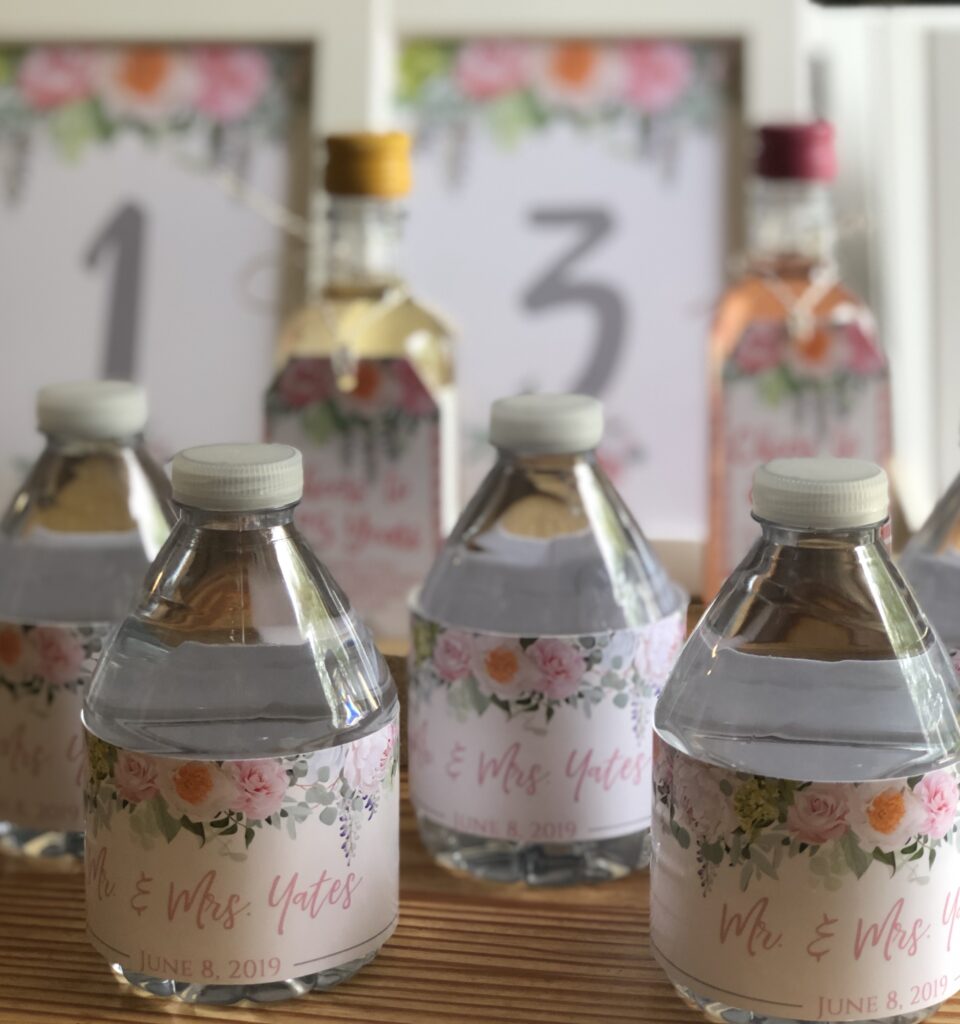 No matter what paper you choose, ALWAYS print my images on WHITE paper. My preferred paper and method for making water bottles labels, is printing onto Epson glossy photo paper because it seems to hold up the best with temperature change, the colors are bold and the label does not wrinkle when people are holding the bottles during your special event.
When printing with the Canon Crafting Printer, the ink does not run even when the water bottles wet. However, I do not recommend immersing the water bottles in ice or water. I recommend cooling them in a fridge and standing them on a serving table or bar.
My favorite plastic water bottle is by Dasani. The water bottles maintain their shape and they do not tend to fall over when set on a smooth surface. I personally end up shopping at my local grocery store each time I print a label for a party. I prefer that the cap of my water bottle does not clash with the label design.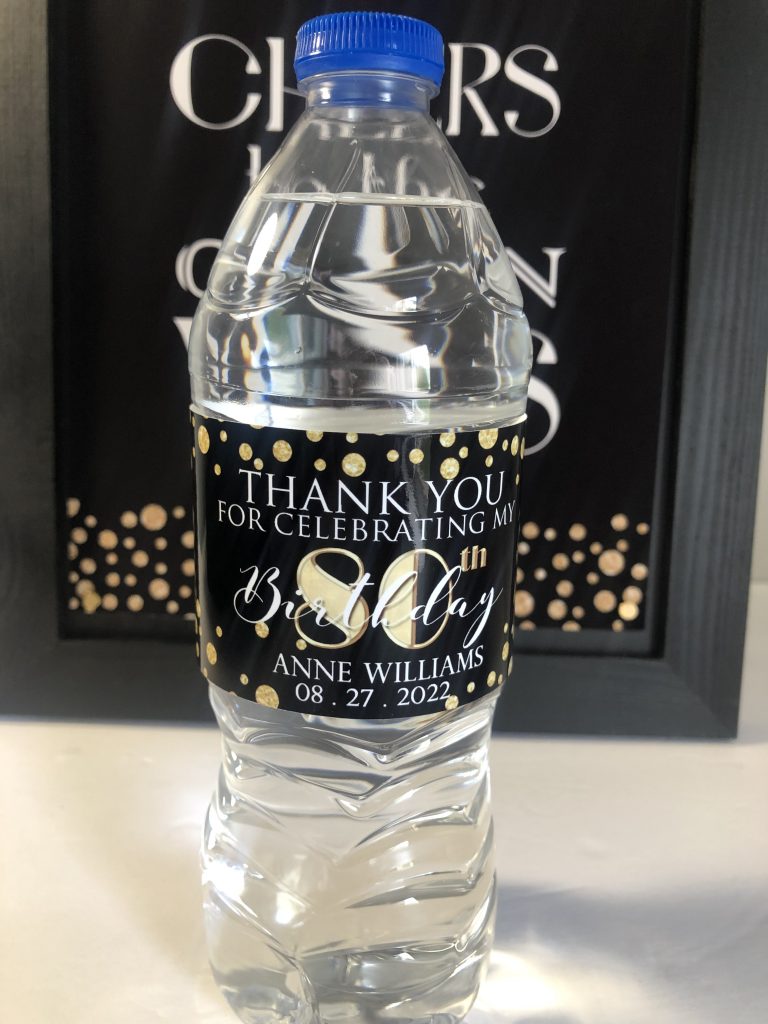 When shopping for the correct bottle for my project, I have found that manufacturers are constantly changing the design and material they use for making the water bottles themselves. So I recommend picking up the bottle to see if it crinkles in your hand. If it does, I look for one that is more stable.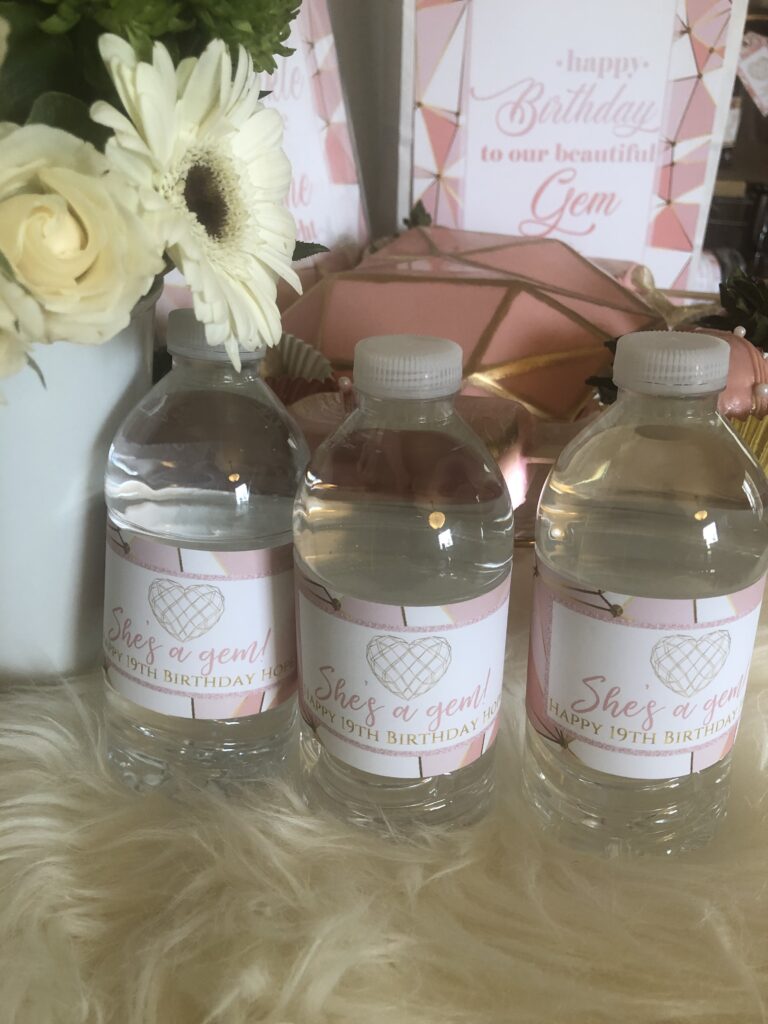 Depending on your occasion, you may want to print your label onto an adhesive sticker paper. I recommend the removable Avery sticker paper or the Online sticker paper. This is a full sheet sticker and you can cut to fit your water bottle. I prefer to cut my own labels instead of using a pre-cut label so I can cut the exact size to fit my water bottle. Water bottle sizes vary between manufacturers, so you can adjust as needed. Beware, these sticker papers are not waterproof and can crinkle on your bottle.
If you order your label design through Baer Design Studio, they are not designed to align with individual water labels, so use the full sheet labels.
Prefer to work with card stock? The number one printing problem comes from customers who are trying to print onto CRAFT STORE card stock. I do not recommend this type of card stock as it is porous and can have a coating. These papers are commonly found in the scrapbooking sections of stores such as Michael's and Hobby Lobby. I prefer to use Epson's Premium Matte Photo Paper. It is a beautiful finish and the colors print sharp and vibrant. It is not water proof but I found that the ink does not run.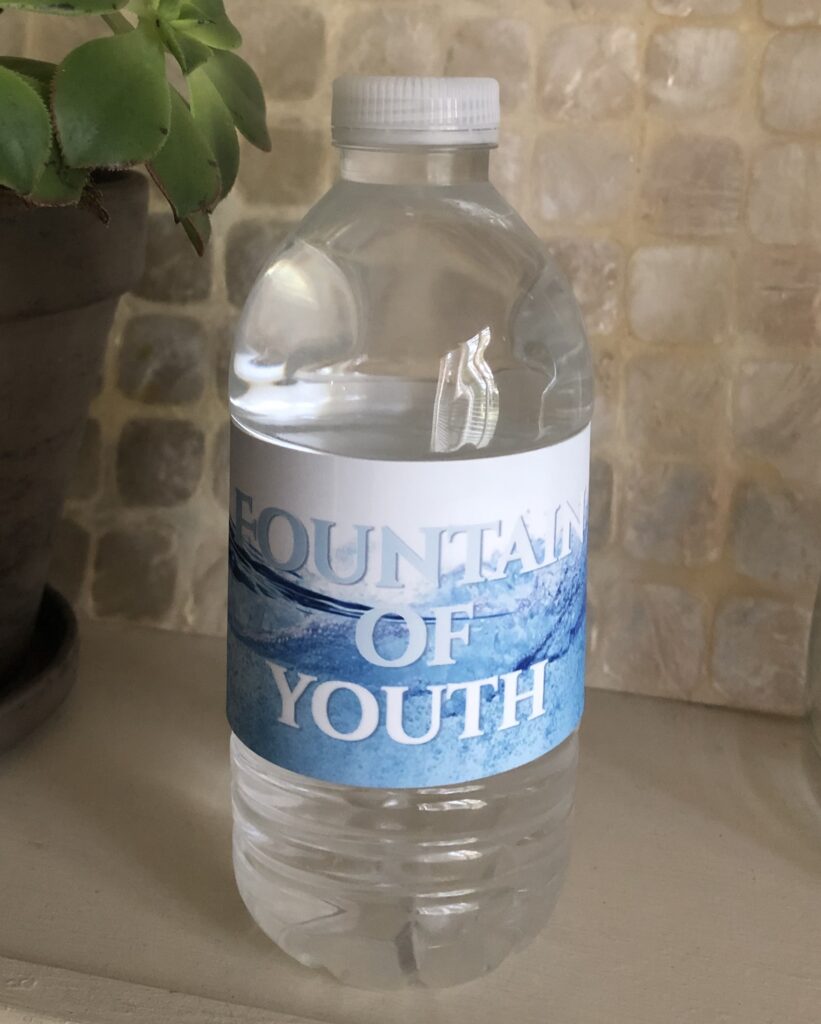 The most overlooked component of printing at home tends to come with the printer settings. Make sure to adjust the printer settings on your printer. This will vary based on the printer manufacturer. The majority of the time I use "BORDERLESS PRINTING" because I do not want the printer to shrink my image and to make sure there is not an additional white band added to the outer edge of my image.
I always choose "BEST PHOTO", even if I am not printing a photo (I find is best to treat the printable image as a photo). These settings are generally found under the advanced settings option. Make sure to choose the correct "PAPER TYPE" setting.
When you are working with specialty papers, from Epson, Avery, etc., they enclose printer instructions which tell you which paper settings to use. If you want further printer instructions, you can read my blog post .
If you prefer to send out your labels to be printed at Staples, FedEx printing, Kinkos, etc., they have a variety of paper finishes and paper weights to choose from. Should they ask, you have my permission to have Baer Design Studio water bottle wrappers printed by a professional printer.
Once the labels are printed, I like to trim the labels using a paper cutter rather than handheld scissors. Depending on the brand and size of bottled water you use you may want to trim the ends of your labels.
To attach the labels to the bottles I recommend using hot glue or ZOTS large glue dots. Make sure to place the ZOTS on the center of the backside of your label and in the corners of the label. I use 6-8 dots per label.
DO NOT SKIMP on the adhesive or the labels may pop open. Hold in place for a few seconds to make certain that the label properly adheres to the bottle. You can also use double-sided tape.
If you have any questions, please contact us.
Thank you, Brigitte Baer of Baer Design Studio
Baer Design Studio has an affiliate relationship with Amazon and receives a small commission when Amazon purchases are made. Baer Design Studio only recommends products they have used, tested and approve.