WORDS OF ENCOURAGEMENT JAR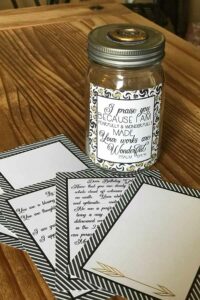 The Birthday Words of Encouragement Jar is a very easy and inexpensive way to spread love, kind words and encouragement. This handmade gift made a huge impact when I originally created it.  It was so well received, that I decided to make the printables and directions available to anyone who would like to give this project a try! I have included all the links to the supplies, so that you can find the exact supplies I used for this project.
Originally, I designed these printables for a 50th birthday party. During the party, each guest wrote a birthday wish/scripture/poem/positive thought and added it to the empty jar.  For those who could not attend the party, I mailed the blank printable card so they could still participate. If you prefer to have all the cards filled out in advance, you can request guests send their well wishes to you through a text or email.  Just type their words onto one of the cards and print. This option allows you to arrive at the party with a jar full of encouraging notes.
Although I used this idea for a birthday party, it can be used for for a Thanksgiving dinner party, teacher appreciation, graduation party, retirement party, anniversary or good-bye party, just to mention a few!
Supplies needed:
empty jar
paper cutter or scissors
printer (use your own home printer or have a local printer, such as Staple's print for you)
STEP ONE: Purchase the printables here.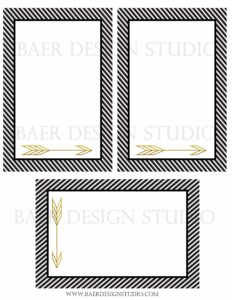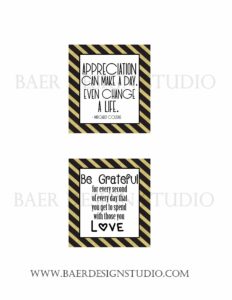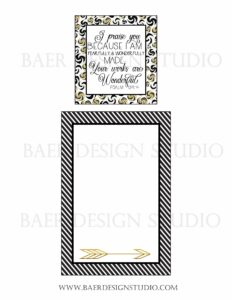 STEP TWO: Print out the label onto the injet/laser paper of your choice. I included 3 different jar labels to choose from.  I printed my label onto Epson's gloss photo paper because I wanted that extra polish and pop.  You can also use printable sticker paper for the jar label. For the actual blank encouragement cards, I used white inkjet card stock. You can also just print on plain white copier paper. For additional printing instructions, you can read my "printing how to" blog post.
STEP THREE: Use a paper cutter or scissors and a steady hand to trim the cards and the label.
STEP FOUR: Make sure the empty jar is clean and free of fingerprints or oils so that the adhesive will hold properly. You can use any size jar.
STEP FIVE: Use a heavy adhesive to stick the printable label to the jar. I like to use Zots adhesive dots.  They hold well and I always keep a supply of them at my house, because they work for all sorts of projects and crafts! If you are using a printable sticker paper, then you just need to position the label and stick in place.
STEP SIX: Decorate the lid with ribbon, gems, paper or fabric flowers, wax seals or whatever works with your theme. Fill the jar with the notes!
If you want to create this jar using different quotes, you might enjoy looking at the digital word art from Baer Design Studio.
If you want to make other coordinating printables for your party, you can find the the paper backgrounds here.
If you have any questions, or want customized Encouragement Jar printables, please free to contact me at bdhhbaer@gmail.com.
Have an amazing day!  Brigitte Baer, Baer Design Studio