There are times when I want to use a printable cardstock with a bit of shimmer and this printable Metallic Champagne Cardstock is the answer!
Perhaps your wedding invitation, party banner, party sign or printable tags may need a little sheen. After searching and trying out multiple papers, I found this Printable Metallic Champagne Cardstock on called Metallic Champagne cardstock. It is really more of a shimmer than metallic, but I LOVE it.
I have used it for a number of projects over the past three years, so now I feel confident to give it my personal stamp of approval! It should be called Ivory Shimmer cardstock, instead of Champagne Metallic cardstock, but that is my only major negative feedback. I have experimented with four of the subtle shades of ivory, gray and silver in the shimmer collection.
CARDSTOCK SPECIFICATIONS:
Size: 8 1/2 x 11 Cardstock 8 1/2 in x 11 in / 8.5" x 11" / 216mm x 280mm / Letter Size, 105lb cover

Color: Champagne Metallic shimmers under light and it looks ivory rather than champagne. 

Prefer a White Shimmer instead of Ivory?  I recommend the 120 GSM White Shimmer

Quantity: Pack of 50

Prints well on ink jet and laser home printers. I use the  Epson Expression
PRODUCT USES:
Cuts, scores and folds well when I used my Cricut to make the banner in my sample photo as well as when I cut the laser like wedding invitations in the photo below. It cuts beautifully.
Works well for tags, invites, banners, cards, envelopes, folders, signs, electronic cutting, stamping, scrapbooks, etc.
Can write on the paper with a Sharpie and it will not smear.
Pay close attention when printing heavy dark patterns, as I did experience some bleed. When I re-adjusted my paper settings, the results improved tremendously.
Since this is an ivory paper, colors will not be as vibrant, but the dark colors show off the shimmer.
I do not recommend this paper for printing photographs.
It is difficult to see the shimmer when you photograph the final product, but in "real life" the paper is gorgeous!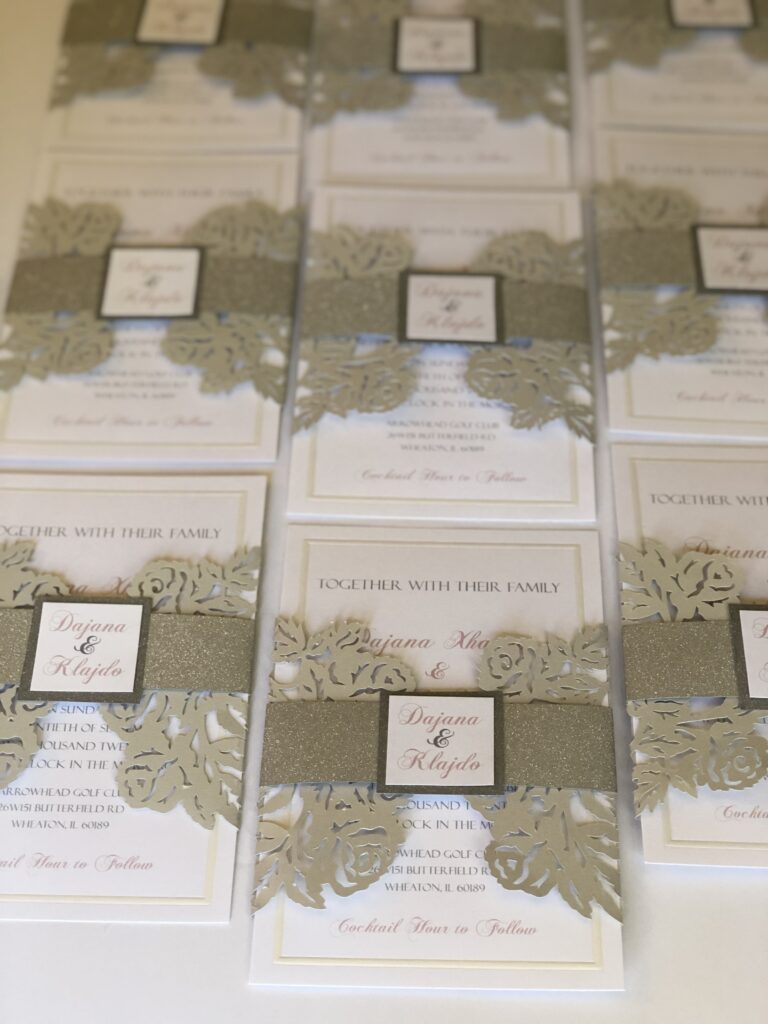 I am continually testing papers for my own paper crafting projects as well as referring printable cardstock options to my customers. As the owner of Baer Design Studio, I design and sell digital artwork which gets downloaded and my customers print at home. Printing digital artwork at home can be intimidating, so I try to make this an easy and enjoyable experience for all.
If you have any questions, please reach out to me through my email bdhbaer@sbcglobal.net. You can also shop for my digital papers and printables at the Baer Design Studio shop.
Baer Design Studio is part of the Amazon affiliate program and receives financial compensation. Baer Design Studio only recommends products that are tried, true and loved!
May you find peace and joy in your creating!
Brigitte Baer, of Baer Design Studio