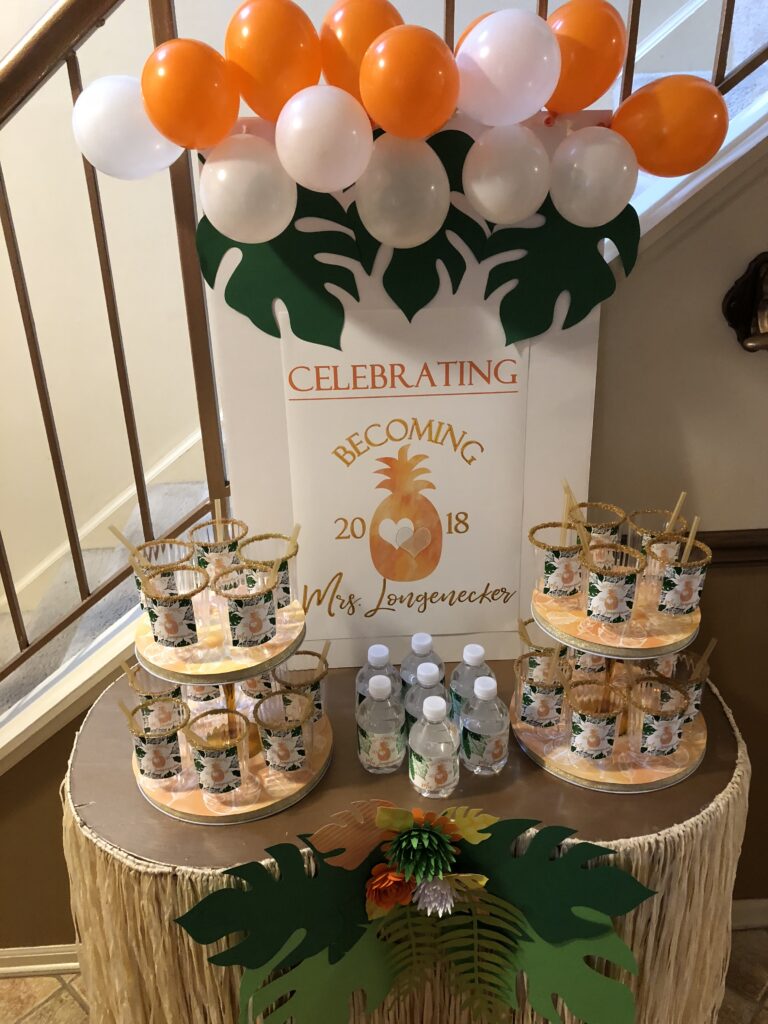 I hope to inspire you to make your own printable signs and posters.
Since childhood, I have always loved making my own posters.  Back in the day, I traced my letters with stencils and used Elmer's glue to attach my letters, photos and clip art.  When I was in college, I used enough rubber cement to last me a life time!  When I finally upgraded my graphic design skills via computer in the 90's, the sky became the limit. 
I love attending weddings, bridal showers, graduation parties, etc. and see people use decorative signage as welcome signs,  food tents,  for directions, to share quotes, pictures, etc.  DIY signs make great party decorations, conversation pieces, as well as the perfect way to add your personal touch.
Signs can be intimidating to create, but I want to share some tips I have found useful when making my own printable signs.
1.  If you are lacking ideas, you can search Pinterest and Instagram. These two sources provide endless inspiration. I found this cute "Ready to Pop" baby shower theme on Pinterest and used it for a simple little baby shower we threw for my son's preteen church leader.  The kids ate "pop" corn and blow "pops" in the church classroom.  I bought bowls from the dollar store, added the printable signage, made a few plastic cup labels, a printable banner and we were good to go!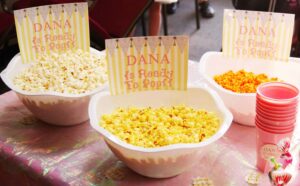 2. Create your own signs in the computer software program of your choice. If you do not like your handwriting, have not perfected your handwritten script or just don't like arts and crafts, making signage on your computer is a great option.  Just create and print. No matter if you are in need of something small like a cake sign or larger item like a party poster, a printable sign can be the solution to your design dilemma.  I recommend deciding on the size of the sign FIRST and THEN decide how you are going to display it. You may be able to print your item at home or you may need to send it out for printing.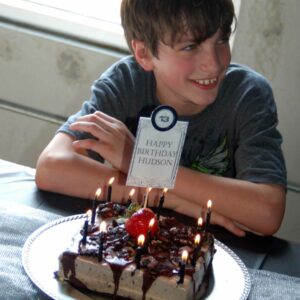 3. Purchase a pre-made printable sign download. If you do not want to make your own sign from the bottom up, then you can shop for all sorts of pre-made signs on Etsy, etc. Some shops print and frame for you, others will do all the design work and then email it to you.  Digital artwork is a great option because once you purchase a design, you can print it over and over again.  You can also choose the type of paper you want for your sign and the custom size you need for the project. I sell digital signs in my shop.  Some are custom, and others are instant downloads.
4. Keep over-sized poster paper in your stock! Be forewarned that specialty printer papers or over-sized papers are very difficult to find in retail stores, so I tend to order these items on Amazon or online.
Because I design and print my own signs, I make sure to keep my favorite poster paper stocked in my studio. I wrote a comparison article with my top 3 picks for inkjet friendly heavy paper.  I use an Canon Crafter Printer because it prints 12×12 inch photo paper and I also use Epson 13×19 glossy photo paper.  I love the quality of the prints and the thickness of the paper. 
I tend to only make one large poster for an event and then smaller signs- 8.5×11 inch, 5×7 inch and 4×6 inch signs for quotes, directions and food descriptions.  For the smaller prints I either use Epson Premium glossy photo paper or the matte version if I do not want a sheen on my prints.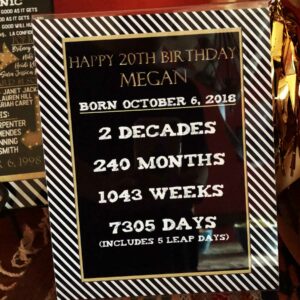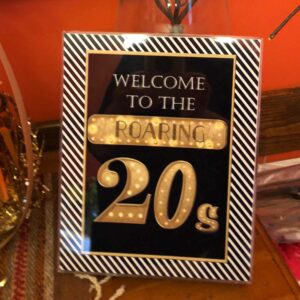 5. Keep Acrylic signs frames and stands on hand. If you host just one or two special occasions a year, such as a birthday party, graduation party or showers, sign frames come in really handy. I store them in a convenient place, because I tend you use them for a number of projects through the year.  I also have used magnetic/chalkboard standing frame and acrylic clipboards with fun clasps.  
Another option is to print onto heavyweight stiff printable card stock. I prefer the Accent Opaque card stock because it has an electronic guarantee to run on the Epson printers as well as many other home printers. If you are making any sort of tent cards, the 120 lb paper is very helpful as it has a lot of body.
6. Re-purpose items you have on hand. I do a lot of volunteer work, so that means I have to take a tiny budget or "no budget" to make something spectacular out of nothing. In the photo below, I used a discarded old whiteboard easel from my husband's office, recycled packaging material from a health food store, a few items from the dollar store and made this sign. I printed the sign onto my over-sized photo paper.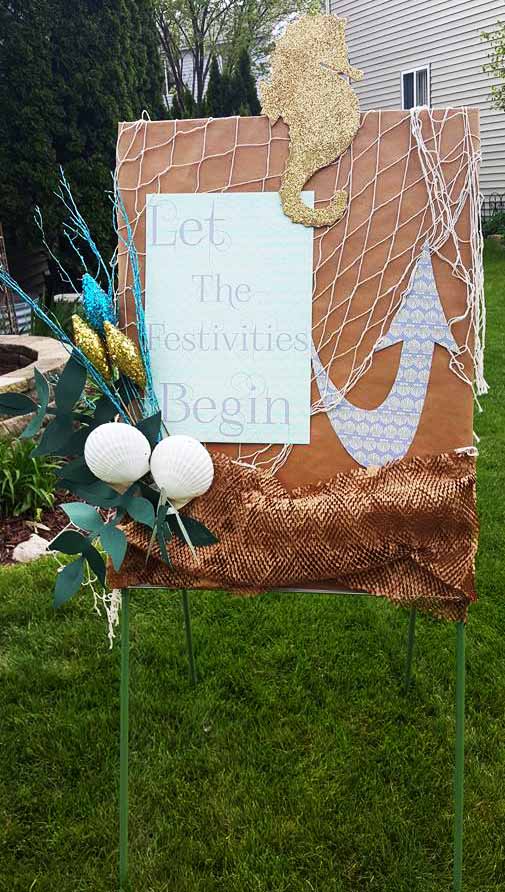 7. Incorporate your signage into your centerpiece. I sell a wide variety of digital quotes in my shops and one of the ways I like to use them is in my centerpieces. In the photo below, I created a 3-sided base paper stand and then attached a 5×7 printable quote to each side of the base. The centerpieces were used on round tables at a marriage retreat. By using a 3-sided base, it looked beautiful from every angle. I have also printed the quotes onto paper and attached them to long skewers. I put the skewers into floral centerpieces and arrangements.
8. Printable banners can be another sign option. Printable banners are a perfect option to hang on or above a dessert table, at the entrance way to the party or for an office party or behind the guest of honor at a shower!
Whether you use your imagination, or borrow someone else's, enjoy the process as you make your own printable signs and posters. Your event will probably only last a few hours, but your party prep will probably take up much more of your time. So use the time to improve your skill set and inspire someone along the way!
If you're considering a professional printer, I recommend Prints of Love. My shop has partnered with them to offer fast, high quality yet affordable printing. Plus free 2-3 day U.S. shipping and free envelopes! Check them out at: https://printsoflove.com/ref/baerdesigns/
Wishing you much joy and creativity as you make your own printable signs and posters,
Brigitte Baer, Baer Design Studio
bdhbaer@sbcglobal.net